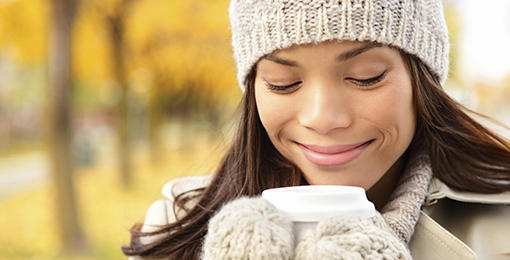 Refreshing Thoughts
October 4, 2013
4 Fantastic Fall K-Cup Flavors From Absopure
There's something about drinking a warm mug of coffee on a cold fall day that evokes the epitome of the word cozy—dare we say pure bliss! But, this feeling is something words simply can't explain—it has to be experienced firsthand. So, get ready to grab your mug and get cozy with these four fantastic fall K-Cup flavors!
Pumpkin Spice
What would fall be without pumpkin spice flavored coffee? With a dash of cinnamon and nutmeg, the aroma of our Green Mountain Coffee Pumpkin Spice K-Cups alone can turn any day into the perfect autumn day. To spice things up even more, and turn this fall favorite into a decadent dessert, try topping your coffee off with a little bit of whipped cream. Our pumpkin spice flavored K-Cups are only available for a limited time, so grab them while they're hot—literally.
Hot Apple Cider
Besides pumpkin spice flavored K-Cups, there's nothing that says fall better than a cup of hot apple cider. Made with real apples, our Green Mountain Coffee Hot Apple Cider K-Cups bring the taste of the cider mill home. Add a few pumps of caramel syrup to turn this classic beverage into a caramel apple treat.
Hot Chocolate
Whether you're spending the weekend cozy on the couch, at a Friday night football game or busy running errands, our Café Escapes Hot Cocoa K-Cups are the perfect way to stay warm on a cold fall day! Available in dark chocolate and milk chocolate, one K-Cup can cure any chocolate craving.
Southern Pecan
Even though Thanksgiving is more than one month away, we're already craving a piece of grandma's famous pecan pie. Thank goodness we carry Green Mountain Coffee Southern Pecan K-Cups to curb our cravings. Take a sip, and you'll taste freshly roasted pecans and sweet southern hospitality.
No matter what K-Cup flavor you're craving this fall, our Absopure refreshment specialists can deliver your favorite K-Cups straight to your home or office. If you're interested in learning more about our coffee delivery service, call us at 800-422-7678.
What is your favorite fall K-Cup flavor?