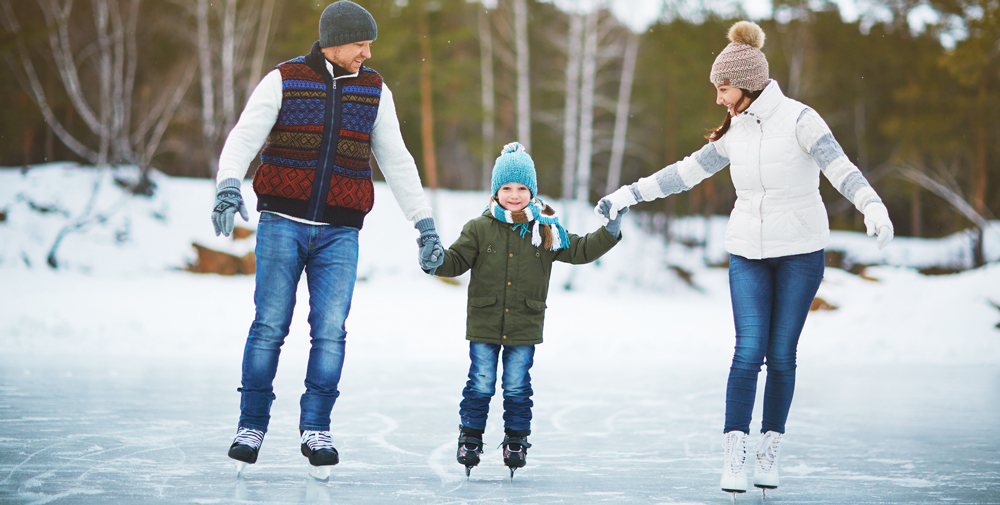 Active Lifestyle
January 26, 2018
Top Winter Activities to Burn Away Calories
Your exercise regimen doesn't have to cease during these cold weather months. In fact, now is the perfect time to enjoy some seriously sweat-inducing activities that can often be turned into fun for the entire family. Read on for some of our suggestions and see just how many calories you could burn!
Rock Climbing – 240 to 355 calories 
An activity once reserved for only the most fit of individuals, rock climbing has now become a favorite hobby and activity of many of your neighbors. According to the International Federation of Sport Climbing, it's estimated that between 1,000 and 1,500 people are trying climbing for the first time–every single day, in the United States alone. It's also a great way for kids to broaden their horizons and try a new activity out. And at 240 calories for just 30 minutes of fun-filled activity, rock climbing is one of the most unique workout shakeups!
Cross-Country Skiing – 240 to 355 calories
Cross-country skiing is a particularly great activity if you have a love of the outdoors. Imagine seeing beautiful wintertime nature scenes while at the same time burning almost 400 calories! If downhill skiing seems a little too daunting, consider its more laid back and relaxing relative, cross-country skiing. You'll also be partaking in an activity that is over 22,000 years old, with continued participation dating that far back it must be pretty great!
Ice Skating – 210 to 311 calories
A timeless classic, ice skating is often touted as one of the best activities to do when the weather cools to a freezing chill. Whether you live out on a lake or in the middle of a metropolitan city, ice skating can be found and done everywhere! Don't worry if you're doing just as much scrambling as skating, as individuals can burn anywhere from 200 to over 300 calories in just 30 minutes of skating.
Stationary Bicycling – 210 to 466 calories
We're not talking about that old stationary bike from the 80's, because the stationary bike of today has seen a serious revival! People are flocking to cycling clubs to enjoy a heart pumping workout while jamming out to any variety of music. One company in particular, Cyclebar, is making a huge impact on the stationary biking industry. With studios located across the United States, you're bound to be close by one of their locations. There's also great upside to stationary biking when it comes to shredding calories, as a moderate work out burns a minimum of 210 calories, while a vigorous workout can net you close to 500!
Shoveling Snow ­– 180 to 266 calories  
So, it might not be the most entertaining activity on our list but we'll bet that it's the one you'll end up doing the most! For that reason, we figured we'd share that the next time your parent or spouse asks: "who's going to shovel the driveway?", it should be you that jumps at the opportunity! And when the low end of the caloric burning spectrum checks in at 180 calories, you can feel guilt-free when you come back inside and enjoy a nice warm cup of cocoa!
Dancing – 90 to 266 calories
We've all been there, that one song comes on and you can't help yourself but to stand up and start to boogie! But did you know that you could be burning some serious calories by doing so? The amount varies by the style and tempo of you dancing, but according to a Harvard University study, fast dancing, like twisting and ballet, can burn an upwards of 200 calories. So, crank up the music and get the whole family moving their feet inside or outside the home!
No matter what you do to stay active during the winter, it's always important to remember to stay properly hydrated. Always reach for a refreshing bottle or glass of Absopure water, or enhance your hydrating experience by opting for great-tasting Absopure Plus electrolyte water!