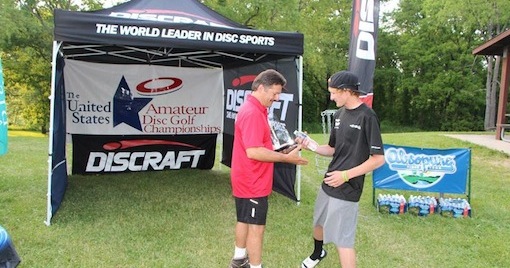 Active Lifestyle
June 13, 2014
Everything You Need to Know About Playing Disc Golf
Have you ever been disc golfing? If not, you're missing out!
Disc golf is quickly becoming a popular sport amongst people of all ages. In fact, it's even a pro sport! We recently had the honor of sponsoring two Professional Disc Golf Association (PDGA) events, including the Discraft Great Lakes Open and the United States Amateur Disc Golf Championship.
So, what is disc golf, and how do you play?
Disc golf (also called "Frisbee golf" or "frolf"), as described by the Professional Disc Golf Association, is "much like traditional golf." However, instead of using a golf ball and clubs, players use a flying disc, or Frisbee.
Each hole starts when a player throws their disc from the teebox toward a target that is usually located a few hundred feet away. Just like golf, each "hole" has a par, and it usually takes a few shots to approach the target. Unlike golf, the disc golf hole is a large aboveground target, typically made of metal, with a basket to catch successful shots.
So, why is disc golf gaining popularity in the United States? It's simple: the game comes with many of the same pleasures of "regular" golf, such as the scenic course views and the exercise, but is a relatively inexpensive hobby to pick up! Rather than spending hundreds (or thousands) of dollars on a new set of golf clubs, disc golfers only keep a few different discs in their bag, which typically cost less than $25 each. Whereas experienced disc golfers will often use a specific driver, putter or fairway discs, a beginner can easily learn the sport using one disc.
As a fairly inexpensive hobby, disc golfers also don't have to worry about paying greens fees. While a typical golf course can cost anywhere from $30-$100 to play 18 holes, disc golfing is a fraction of the cost, if not free!
That's because a majority of disc golf courses are set up in local parks. Over the past decade, many parks have created paths and installed disc golf holes to accommodate the sport's increasing popularity. In fact, the Professional Disc Golf Association has seen both player membership and the number of courses nearly double since 2007!
There are now more than 3,000 disc golf courses across the United States, which means there's probably one close to you! This course directory from the Professional Disc Golf Association will help you locate the closest disc golf course near you.
Whether it's your first time playing disc golf or you've been doing it for years, it's imperative to drink water as you play! Just like regular golf, disc golf involves a lot of walking and time spent outside, so make sure you bring a bottle of water with you and stay hydrated. Our Natural Spring Water Eco-Pak bottles are the perfect size to carry around the course or keep in your bag.
So, what do you say? Grab a disc, a friend and a bottle of water and go visit your nearest course!