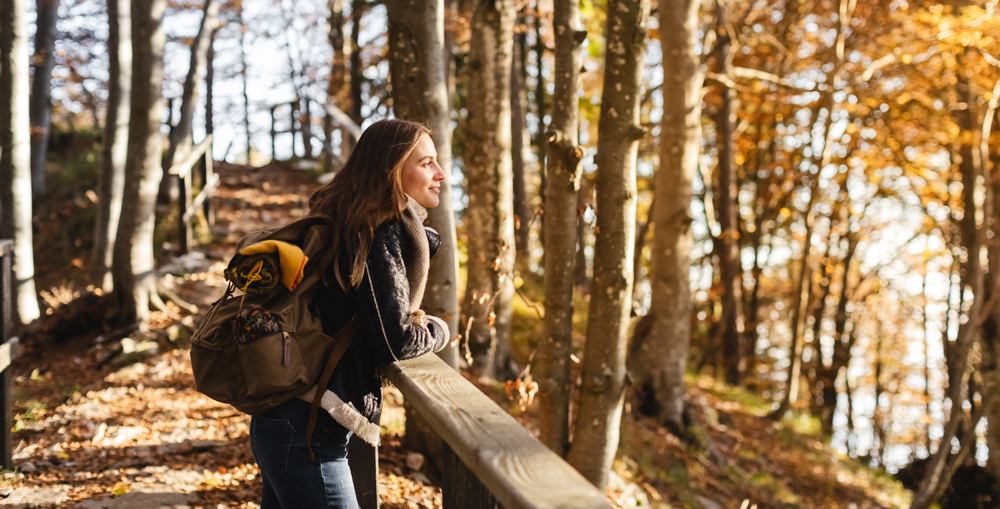 Healthy Living
October 26, 2023
The Best Fall Activities to Relieve Stress
As the temperatures drop and daylight decreases, you may feel more sluggish or worrisome—also known as autumn anxiety. The anticipation of colder weather can raise stress levels, and less daylight can lead to lower levels of serotonin, norepinephrine and dopamine, which are neurotransmitters that control our emotions. To help ease your mind, here are some fall activities to relieve stress so you can prioritize your mental health this season of change. 
Scenic Serenity 
One of the most effective ways to reduce stress is to go outside! A brisk walk through an apple orchard or a hike through a National Forest is a great way to admire the changing leaves and crisp autumn while clearing the mind and boosting endorphins. Remember to hydrate with Absopure Plus, vapor distilled water plus electrolytes, so you can stay energized and keep your joints lubricated.
If hiking isn't your thing, challenge your problem-solving skills with a corn maze, pick out the perfect pumpkin at your local pumpkin patch, or buy some fresh produce at the farmers' market. Incorporating organic fruits, vegetables and other unprocessed foods into your diet could increase concentrations of serotonin and dopamine that help regulate mood and motivation.
Calming Crafts
Engaging in DIY projects is another great option to relieve stress and increase serotonin levels. Crafting allows people to create something new while providing a sense of accomplishment, regardless of whether or not the end result is perfect. This low-risk activity can be incredibly comforting, and it is no wonder that so many people find peace in it.
With fall in full swing, there are plenty of seasonal crafting ideas to try out, such as carving pumpkins, creating a vision board, knitting or decorating the house with festive decor.
Unwinding Activities
Decluttering your living space is a great way to feel more in control. A tidy environment is proven to help create a sense of peace and happiness.
Once a space is cleared, it's time to break out the fuzzy socks, a good book and unwind with a hot cup of cocoa or delicious apple cider. For added comfort, try warming a blanket in the dryer for a few minutes and wrap yourself in it. Finally, head outside to enjoy the peacefulness of the night sky while snuggled under a warm blanket.
Fall Delights
Need a break from the hustle of our fast-paced, technology-driven world? Baking is a hands-on practice and can improve mindfulness, help engage the senses and alleviate feelings of depression and anxiety. Whether baking pumpkin muffins or snickerdoodles, the process is a perfect recipe for feeling refreshed and recharged.
This fall, take some time to prioritize your mental health and engage in stress-relieving activities that bring you joy and relaxation. Whether it's finding peace in nature, enjoying the warmth of your home or creating something delicious, make sure to take care of yourself.