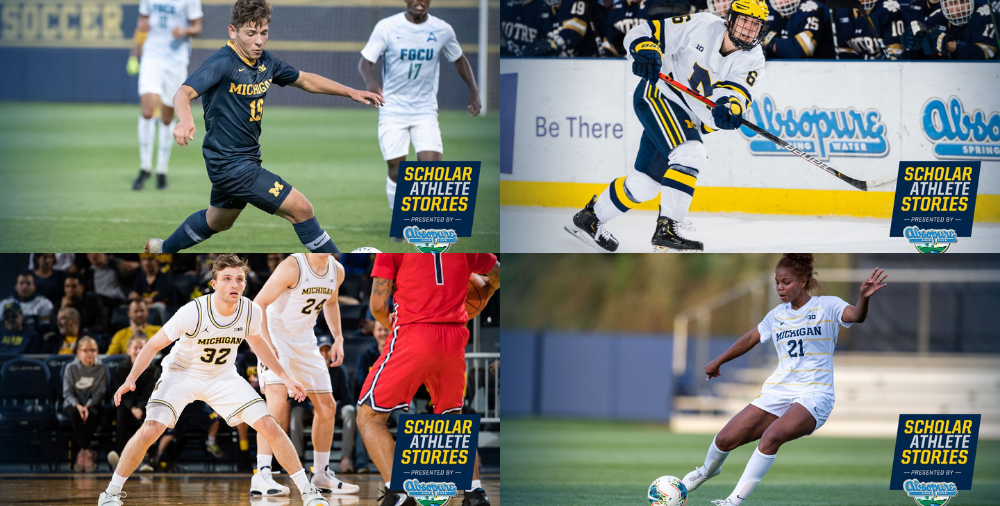 Community
October 30, 2020
Proud Sponsor of University of Michigan's Scholar Stories
Absopure is proud to be the official sponsor of the University of Michigan's Scholar Stories. Featuring new stories every Wednesday during the 2020-21 academic year, U-M's Scholar Stories highlight different student-athletes and their academic paths. Each story focuses on an individual's life, aspirations and progress on and off the field.
The Scholar Story this week highlighted Sydney Shepherd, Junior Defender on the Michigan Women's Soccer team, and the start of her journey in the world of public health amidst one of the most remarkable public health crises in recent time. Her story is an excellent illustrator of how Student Athletes at Michigan are learning to make an impact long after their days on the field are done.
Absopure and Michigan Athletics have enjoyed a longstanding partnership, and we're proud to support an institution like the University of Michigan, that places such a strong emphasis on the scholarly success of its student athletes.
"We are extremely proud at the University of Michigan that our student-athletes compete in the classroom with the same enthusiasm and intensity to compete for championships," said Kurt Svodboda, Associate Athletic Director for the Athletic Department.
Initiatives like "Scholar Stories" are a great reminder of how these students are not only training for on field success, but also to make in impact in their communities when their athletics careers are through.
"U-M Student-athletes advance themselves to impressive careers in all walks of life following their athletic careers, and it all begins during their undergraduate experiences. The Scholar-Athlete Stories are important and engaging perspectives on these impressive young men and women's respective journeys," said Svodboda.
Do you know a student-athlete deserving recognition? Tell us about them in the comments below.