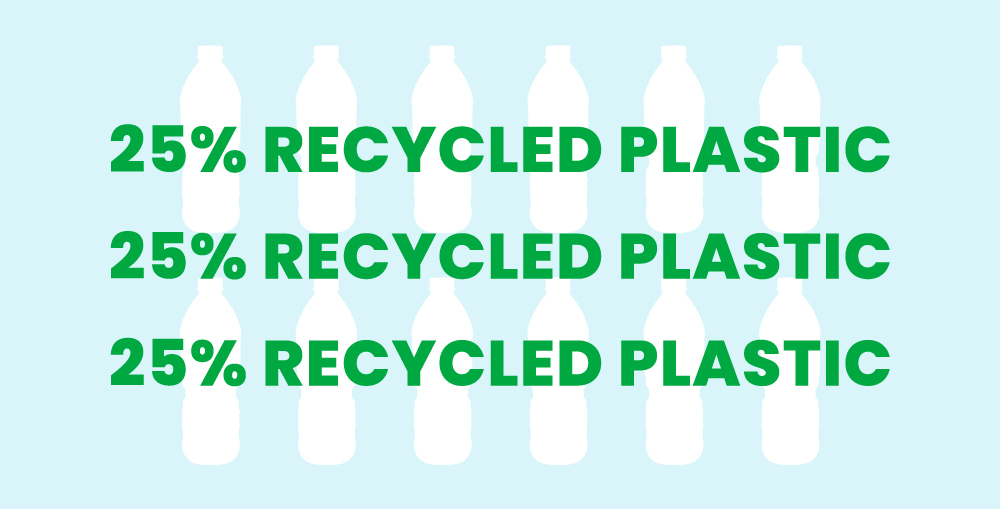 Community
April 22, 2022
How We're Making Waves this Earth Day
At Absopure, we know the importance of living a healthy, active lifestyle. As an industry leader in recycling, we also know an essential part of staying physically and mentally healthy includes making the planet a cleaner and more sustainable place to live. On the mission to reduce, reuse and recycle, we strive to develop environmentally friendly products and innovative recycling processes to help preserve our home—Earth.
This Earth Day, we want to continue our efforts towards a better future for the world through our green initiatives. Check out what we're doing to make a difference, one bottle at a time.
Eco-Pak™ Water Bottles
On Earth Day 2011, Absopure launched the environmentally friendly Eco-Pak™ water bottles made from recycled bottles. Each bottle contained at least 10% recycled content. This year, we're going bigger! After testing formulas and investing in new technology, we've achieved a bottle containing 25% recycled plastic. This new Eco-Pak™ package will hit store shelves this summer. (May 2022)
Clean Tech Facility
At Absopure, we've been working on our sustainability efforts since 1986. In fact, we are the first water company to recycle its own plastic bottles! Our recycling affiliate Clean Tech processes more than 200 million pounds of plastic annually, keeping over 8 billion bottles out of landfills and other areas harmful to the environment.
Recycling is on our Radar 
Aside from our Eco-Pak™ bottles, all of our single-serve water bottles are 100% recyclable. Additionally, in efforts to REDUCE and REUSE, Absopure Returnable five-gallon bottles are collected, sanitized and refilled to be used in water coolers again and again for as long as possible. And when they are done being used, the bottle is 100% recyclable. At Absopure, it's important that we continue to produce great products for you and the environment.
Practical Pick Up 
Everyone has bottles and jugs they go through and then don't know what to do next. Dedicated to RECYCLING, Absopure conveniently offers direct pickup of empty Absopure bottles. Empty bottle pickup is offered by Absopure's Home and Office Delivery service, with the goal of creating more convenient recycling for our customers.
Did you know? If you walk a mile along an average U.S. highway, you will see, on average, about 1,457 pieces of litter. Let's keep litter off the streets and ensure bottle materials are reused by reaching recycling facilities.
Creating Clean Communities 
To help our environment in the most beneficial way possible, we all have to do our part. Absopure provides cases of water to a variety of events and fundraisers and encourages health, hydration and sustainability while still having fun! We also distribute recycling bins across all sponsored events, giving participants the chance to recycle Absopure water bottles. We always want to make it as easy as possible to be good stewards of the environment and our planet.
Learn how you can start to make a difference this Earth Day here.