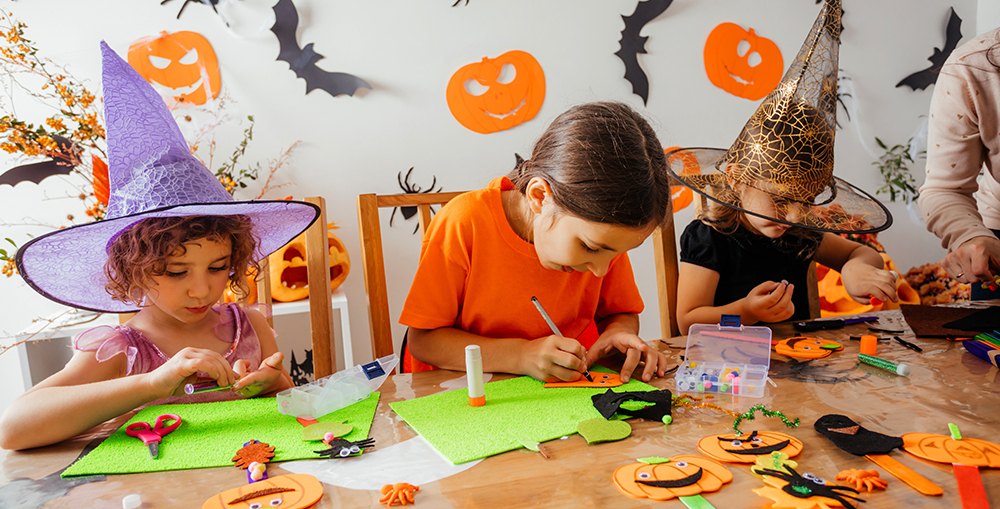 Refreshing Thoughts
October 23, 2023
DIY Ideas to Try This Halloween
Between costumes, decorations, candy and treats, Halloween shopping lists can be lengthy and expensive. With Halloween spending in the United States hitting an estimated record high in 2022 of $10.6 billion, DIY projects are the way to go when looking to spend less without compromising on Halloween festivities. From thrift store costumes to homemade trick-or-treat baskets, here are our favorite DIY ideas to try this Halloween!
Spooky Water Bottles
Mummy water bottles are easy to make and fun to drink! Plus, they are the perfect practical item to help trick-or-treaters stay hydrated all night long. To create a mummy water bottle:
Take a 10oz bottle of Absopure All Natural Spring Water and cover the bottle in a light layer of glue using a glue stick.
Wrap gauze around the bottle to create a mummified exterior.
Finish with googly eyes and use a marker to create a spooky smile.
A similar pumpkin water bottle can be made by swapping out white gauze for orange and drawing on the pumpkin's face with a marker. Be the spookiest house on the block with these festive refreshments!
Thrift Store Costume
Another DIY idea to try this Halloween is creating your own costume with pieces from your local thrift store. Store-bought costumes often get worn once and are then discarded. Creating your own costume with secondhand items can save money and even help cut back on plastic waste since most Halloween costumes are made of plastic and polyester.
When sourcing a costume from the thrift store, it's important to plan what you are looking for before arriving. First, assess the clothing you already own and determine what is still needed to complete your costume. Whether you want to dress as a zombie or as a farmer, you're bound to find the materials to complete your look at your local Thrift Store or Goodwill.
Homemade Trick-or-Treat Basket 
Creating your own trick-or-treat basket is another creative and eco-friendly way to get into the Halloween spirit. You can transform a regular pillowcase into a personalized candy collector with a few easy steps. Take an old pillowcase and use fabric markers or paint to draw on spooky designs, your name or anything else that matches your costume's theme. The pillowcase's roomy interior ensures you'll have plenty of space to collect candy and treats.
If you're looking for a sturdier option, you could also use a bucket or other type of basket and wrap it in colored paper or gauze, similar to the DIY spooky water bottle. From there, the wrapped basket can be decorated with stickers, paint, drawings and more. With personalized baskets as unique as these, you'll be ready for a spooktacular night of trick-or-treating.
DIY Decorations
Spookifying your home with store-bought Halloween decor can be expensive. With DIY decorations, you don't have to compromise on aesthetics this spooky season. From eerie cardboard tombstones to spooky floral arrangements, here are some of our favorite DIY decorations to try this Halloween.
As Halloween spending continues to reach record highs, embracing these DIY ideas can help cut back on costs and create fun activities to get you in a spooky spirit. Whether you create your own Halloween baskets with used pillowcases or make eerie decor for your house, these DIY ideas are sure to help you have a spooktacular Halloween.