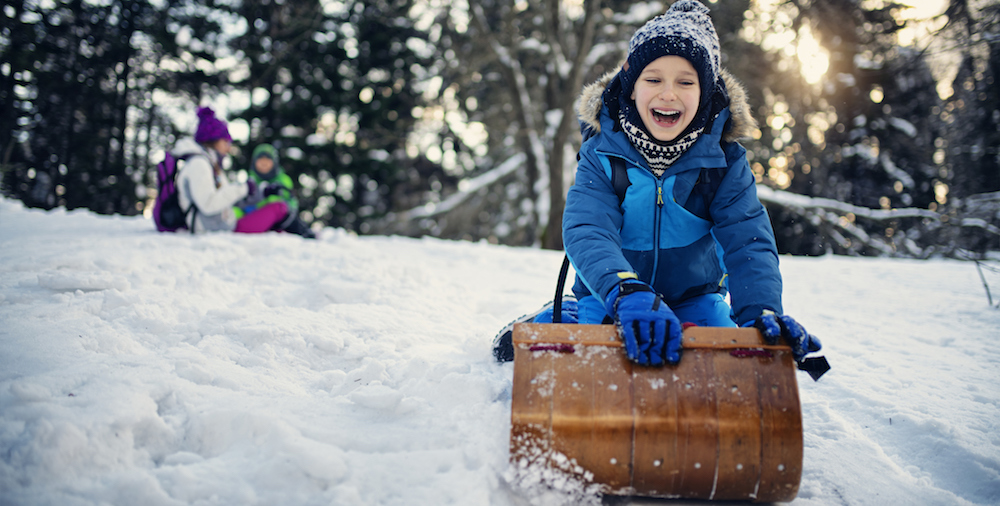 Healthy Living
February 12, 2021
5 More Ways to get Active During the Winter
There's a lot to consider when sticking to your winter fitness routine. Are you keeping up with your hydration? After all, It's important to staying hydrated during the winter months when drinking water may not always be top of mind. Are you eating great food that's good for you? We've got you covered there. Finally, are you getting the necessary exercise required to keep your body in tip top shape? For that, we have 5 awesome activities for staying active during winter
Sledding
 Grab an inner tube, a plastic saucer, an old fashioned toboggan and bundle up for some serious (and healthy) fun. While you've likely been sledding before, you probably had no idea that you can burn up to 345 calories per hour without really breaking a sweat!
Warm yourself up afterwards with a hot chocolate or warm tea made with Absopure Steam Distilled Water.
Ice Hockey
Inspired by our friends Up North, hockey is a great way to work out and satisfy any competitive urges! While skates, sticks and goals are typically required for some legitimate hockey, games like broomball require nothing but…a broom and a ball. Plus, after a solid 60 minutes you could burn roughly 549 calories.
Fatbiking
Biking but bigger! This is an incredible option for those who savor the summer sun by darting around on two wheels. When cold, snowy weather rolls around, swap your standard tire for these fun and functional oversized tires, great for navigating off road terrain, especially snow!
Biking is an efficient way to burn calories, too, from 400 – 800 for most people. Set your favorite bottle of Absopure Plus in your bike's bottle holder and hit the trails for some winter fun!
Snowshoeing
Typically, winter activities that require special equipment can be a bit daunting to take up as a novice, but snowshoeing is a great way to get out in nature and reap the rewards of a healthy walk. Compared to walking, which typically nets you a caloric loss of about 360, snowshoeing for an hour typically burns about 576 calories! Better yet, snowshoes are fairly affordable when compared to other winter activities like snowboarding and skiing.
YouTube Workouts
Looking to stay nice and toasty? That's no excuse not to get a good sweat in this winter. YouTube offers a wide variety of free workout videos that are sure to get your blood pumping. Whether you prefer HIIT, cardio, yoga or Pilates as your exercise of choice, you'll be able to browse for an instructor and method that suits you best.
Don't forget to grab your favorite bottle of Absopure water and stay hydrated while working out from the convenience of your own home!
Staying active during a "normal" winter is hard enough. What are you doing to stay active this year? Let us know!