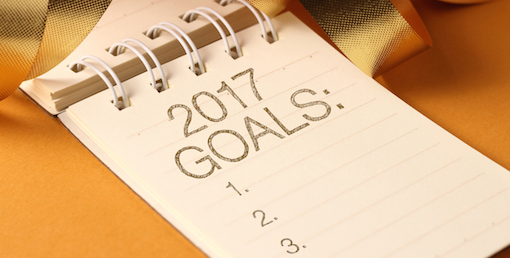 Healthy Living
January 5, 2017
4 Healthy Lifestyle Tips to Help Revitalize You for 2017
A new year brings with it a reenergized sense of purpose and a fresh set of goals. If you're like the majority of Americans, your 2017 New Year's resolutions include healthier habits such as dieting and exercising. But it can be tough to keep your new lifestyle going through January without proper discipline and organization. But where do you start? To help you stay in control of your New Year's resolutions, here are 4 healthy lifestyle tips to help get you revitalized.
 1. Make Your Goals More Specific
In business, goals usually consist of measurable objectives that keep track of progress. But when applied to our personal lives, goals tend to become a lot more vague. If you want to kick off the year right, make your resolutions more specific so you have more motivation to achieve them. Rather than say 'I want to drink more water', you can phrase it as 'I want to drink at least 3 bottles of water per day'. That gives you a measurable objective and a personal benchmark to keep track of.
2. Keep Track of Your Goals
Your mental state is usually a big motivating factor in getting you to make New Year's resolutions – but as is commonly seen, thinking about goals only gets you so far. Over time, new obstacles and distractions can prevent you from maintaining that motivation through January and beyond. Instead, make a habit of physically tracking the progress of your goal through a journal, app or something similar. This daily practice offers a feedback loop that constantly reinforces where you are in your goal from where you began – creating a refreshed sense of motivation that helps keep you going.
3. Keep Yourself Hydrated
If you want to maximize the effectiveness of your New Year's resolutions, then it's important to know that water intake plays a peripherally crucial role in just about all of them. Keeping yourself hydrated provides several benefits – including more energy and a clearer mindset – that will increase the likelihood of sticking to your goals. If you haven't already, consider adding 'better hydration' to your list of 2017 resolutions, and set measurable goals that ensure you're drinking the recommended amount of water each day. Doing so is perhaps the most important healthy lifestyle habit you can make. It's also very important to stay hydrated during the winter months.
4. Get More Sleep
In order to keep a healthier lifestyle in 2017, it might be smart to observe your current sleep habits. While it may not be a cure-all, medical research suggests that consistently sleeping the recommended seven hours per night brings about a variety of health benefits – including improved mindset, better memory and clearer thinking. Sleeping too much or too little can cause you to feel tired and drowsy, which plays a huge factor in eliminating motivation and, subsequently, the desire to continue with your 2017 goals.
What healthy lifestyle tips do you have to help revitalize for your 2017? Share them with us in the comments below!