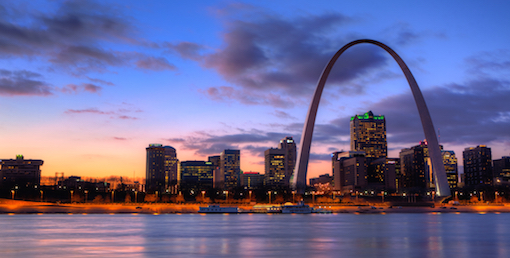 Absopure Delivered
May 5, 2016
Absopure's Reliable and Refreshing Beverage Delivery Service In St. Louis
Although Absopure's humble beginnings started in Detroit, Michigan 108 years ago, we have since expanded to other notable markets in need of our exceptional home and office beverage delivery service. At Absopure, we're dedicated to providing the highest quality bottled water and refreshment services to the residents of the greater St. Louis, Missouri area.
We differ from other beverage delivery services for a handful of reasons: best value for your budget, wide selection of sustainable products, timely delivery and a worry-free warranty.
Similar to our Michigan market, we offer our St. Louis customers with incomparable service. Whether you're looking for a home or office delivery service, we supply our customers with a large selection of Natural Spring, Steam Distilled and Purified bottled waters, water coolers, 3- and 5-gallon water jugs, Sparkling Absopure, Montreaux, Absopure Plus and water filtration systems for the best value.
In addition to the St. Louis proper area, we also provide our exceptional services to surrounding suburbs like St. Charles, Chesterfield, Fenton and Arnold. If you tread over the Mississippi River into Illinois, our services are available from Waterloo to Belleville to Alton and everywhere in-between. We even deliver as far North as Springfield, Bloomington and Champagin.
We're also more than just a water company. At Absopure, we offer premium coffee products and services to the residents of St. Louis. Our convenient water and coffee delivery service can cater to the most particular coffee drinkers. Whether you like your coffee by the cup or by the pot, we have something for your. Our high-quality commercial grade equipment is professionally delivered, installed and serviced, to make your coffee experience hassle-free. With six varieties of Absopure Premium Coffees and 70 types of K-Cups to choose from, we have one of the widest selections on the market.
We always look forward to attending the St. Louis Small Business Monthly Business Expo every year. Twice a year, business professionals servicing the greater St. Louis community come together at this event to network and represent some of the city's best and brightest companies.
As a company who is dedicated to supplying local businesses with the best office refreshments in town, we're not the only ones who take pride in our products and services. St. Louis Small Business Monthly has named Absopure the Best in Reliability for four consecutive years.
In addition to servicing St. Louis with the best and most reliable beverage delivery service, Absopure also sponsors numerous events near and dear to the area. From GO! St. Louis, to the MO' Cowbell Marathon and Hot Chocolate 15k/5k St. Louis, Absopure is always there to congratulate you with an ice-cold bottle of water at the finish line.
If you're located in St. Louis and interested in our reliable home and office beverage delivery service, give us a call at (800) 499-9938 or click here to start a free trial.